Since veterinary medicine is a dynamic science, our staff and veterinarians are constantly working to build on their expertise and knowledge base for the benefit of your best friends. You can rest assured that when you walk through our doors, your pet's needs will be met with skill, as well as genuine compassion and tenderness.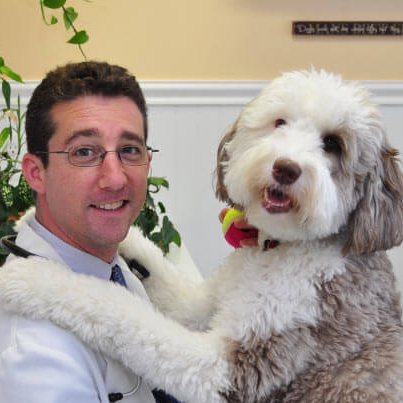 Matthew Steinberg, DVM
Dr. Steinberg is a native Long Islander, he grew up on the North Shore of Nassau County in Roslyn, N.Y. He spent his summers teaching and riding horses and has always had a propensity towards animals and nature. Dr. Steinberg graduated from Tufts University School of Veterinary Medicine in 2005. Following veterinary school, he continued his training completing a rotating small animal surgery and medicine internship at the Animal Medical Center in New York City and spent the following year as an emergency veterinarian at Bluepearl Specialty and Emergency Hospital also in New York City. Dr. Steinberg spent most of his early years practicing as an emergency veterinarian working alongside various specialists as he honed his practical skills. He spent another 2 years practicing high-quality veterinary medicine as a general practitioner on the upper East Side of Manhattan.
In 2010, Dr. Steinberg moved back to Long Island to continue practicing the highest level of veterinary medicine focusing on general practice with a keen understanding of your pet's emotional and medical needs as well as the ability to communicate effectively with you, the client and pet parent. He continues to focus and teach the value of working with pet owners to improve their pet's lives.
Most importantly, Dr. Steinberg spends much of his time when not taking care of our beloved pets with his two children, twins, Daniel and Hannah. They are everything to him and if you come in many days you might see them helping around the office! Between the animals that live at the office and home, Dr. Steinberg has a zoo, caring for two dogs, an Aussiedoodle Lily, and Cavapoo Sandy, and eight cats Salt, Pepper, Millie, Puck, Mario, Betty, Stanley, and finally Sabrina! And if you visit the office you will meet our tortoise, "Torti". 
His special interests in veterinary medicine include neurology, emergency medicine, and especially being the bridge between owners and pets helping people keep their pets happy and healthy.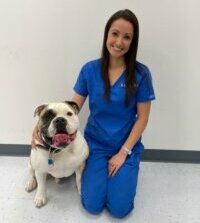 Dr. Hayley Knopf
Sometimes we feel helpless. Helpless in knowing where our pet might be hurting, why our older dog may be slowing down, what the best plan for our new puppy or kitten is, why our pet won't eat, if they are sick, or whether that bump is concerning. Is a certain behavior normal, or could it be a sign of a deeper health issue? There can be so many questions. This is where my passion lies. To be able to provide you with answers, so your best friend can live a happy and healthy life, and be by your side for as long as possible.
Dr. Hayley Knopf grew up in Northport, NY on the north shore of Long Island. She started her career helping animals as a licensed veterinary technician, and quickly developed a passion for medicine and surgery. She obtained her Bachelor's degree from Dowling College, then moved to the beautiful island of St. Kitts and Nevis to attend Ross University School of Veterinary Medicine. After finishing her clinical year at Oklahoma State University, she graduated with a Doctor of Veterinary Medicine degree in 2016. Dr. Knopf enjoys reading, cooking, and spending time with friends and family. She currently lives with her husband, and Olde English Bulldogge, Bugsy. Mia Cosentino, DVM Hayley Knopf, DVM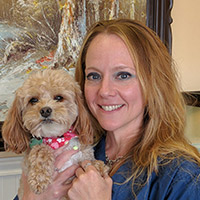 Donna
Donna's love for animals started when she was very young. While in high school, Donna decided to study to become a veterinary technician. She went to Farmingdale State College and graduated in 1992. Donna has two beautiful children, Michael and Olivia. She also has two dogs, a rabbit, and a carnival goldfish from 2019!! Francesca
Veterinary Technician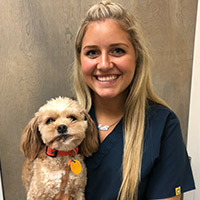 Nicole
Practice Coordinator
Nicole has been an attendant here at Commack Veterinary Center since 2018. She graduated Mercy College with a bachelor's in science with hopes of continuing to vet school one day. She has had a passion for animals ever since she was little, and her favorite breed is Golden Retrievers. She has 3 dogs Roman, Dexter, and Tessie. Natalie
Veterinary Assistant Natasha
Veterinary Assistant Janel
Veterinary Assistant Daniella
Client Service Representative
Daniella is one of our receptionists. She always had a love for animals and is excited to be a part of the Commack Veterinary Group team. She has a dog Cocoa and a beautiful baby girl. Marisa
Client Service Representative Marilyn
Client Service Representative Kelly
Client Service Representative